Tiny kitchen? Make the most of a small space with our small kitchen design services in in NYC and NJ! Call now for a FREE cost estimate: 201-731-5146.
Small spaces can pose a challenge for interior design, and many residents of NYC are all too familiar with the pitfalls of severely limited square footage. In the heart of urban areas, where square footage is at a premium, many renters and homeowners find themselves stuck with a kitchen that's practically microscopic. This might seem like it leaves very little to work with, but with some creativity, you can do some amazing things with even the tiniest urban kitchen.
At All 1 Kitchen, we offer small kitchen design services in New Jersey and New York City. Our talented designers can work with you to bring your design vision to life, breathing a newfound vitality into even the smallest of spaces. Interested in learning more? You can call us any time for a free consultation and cost estimate, at 201-731-5146.
Big Ideas for Small Spaces: 8 Great Small Kitchen Design Ideas
These small kitchen design ideas can help you find your inspiration for your kitchen remodeling or renovation project. From creative uses of storage space, to innovative floor plans and appealing design aesthetics, these small kitchens pack a lot of character into a tiny space.
A Cute Cafe Table for Two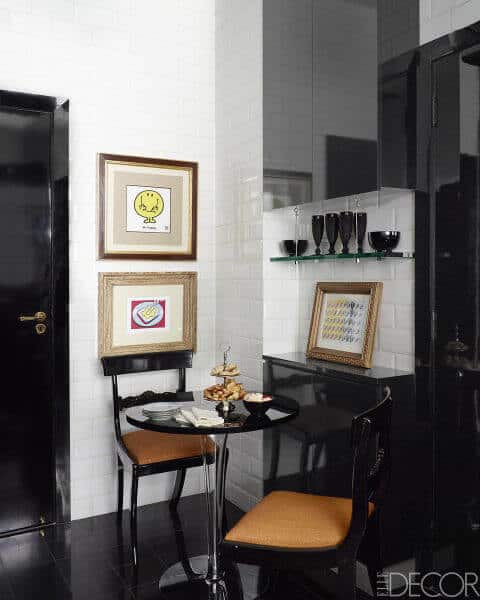 You might think that a dining table is a no-go in a small kitchen, but this homeowner made space with a vintage cafe-style table for two. The space-saving design has a small, narrow leg, and the sleek 19th-century chairs add contrast with soft neutral cushions in an ultramodern black and white space.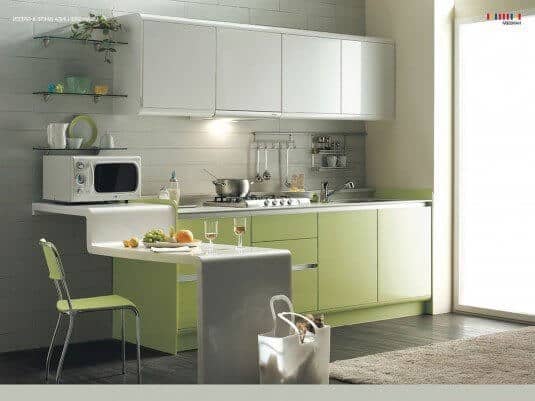 This kitchen has limited space to work with, but by opening up the floor space as much as possible, this design is anything but constricted and claustrophobic. A modern island with open space underneath serves as a kitchen table for one, and ample natural light further opens up the space. Smooth, frameless kitchen cabinets complete the sleek, modern aesthetic.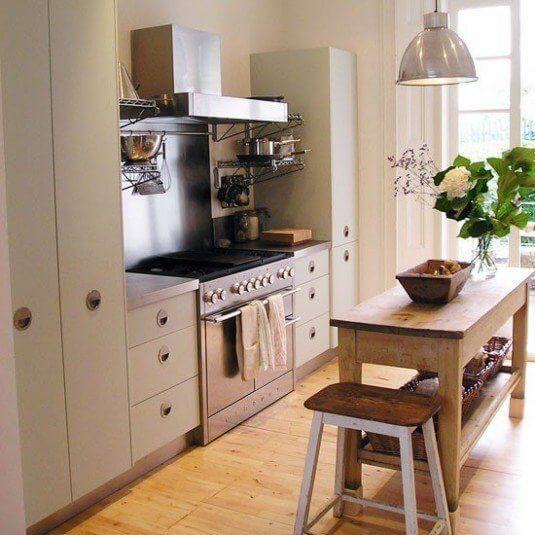 Custom kitchen cabinet installation lets you choose from unusual sizes and dimensions, providing extra storage that can accommodate small or unusual spaces. In this kitchen, extra tall cabinets make the most of vertical space in a kitchen with limited space horizontally.
Think Outside the (Cabinet) Box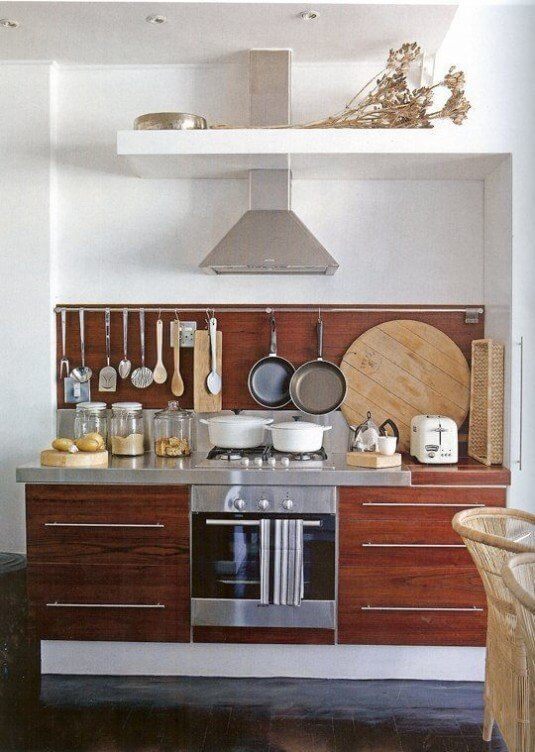 Instead of hiding cookware and utensils inside a cabinet, this small kitchen design puts them on display, turning these kitchen utilities into a key decorative element. This frees up much-needed space in the sleek, horizontal cabinet drawers.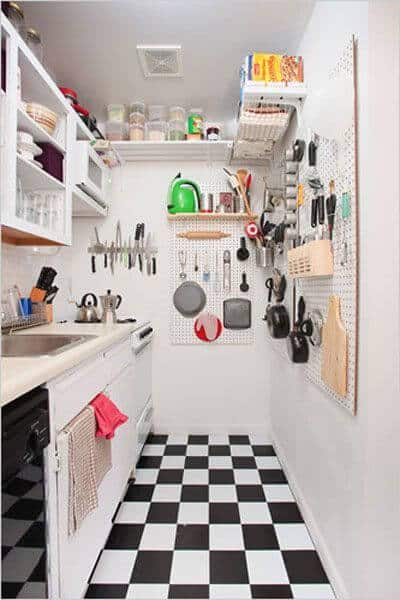 In this tiny kitchen, installing more cabinets would constrict an already tiny floor plan, leaving little room to walk. This small kitchen design makes use of wall boards for storing cookware and utensils, paired with overhead shelving to maximize storage with limited cabinet space.
Minimize Wasted Space with Custom Cabinets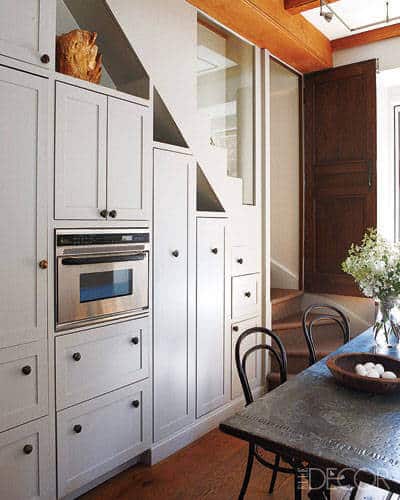 In this Manhattan apartment kitchen, Shaker-style cabinets and drawers in custom sizes make use of a space that would otherwise be wasted. Custom kitchen cabinets can be tailor-made in unusual shapes and dimensions, allowing you to use unconventional spaces for maximum storage in your small kitchen.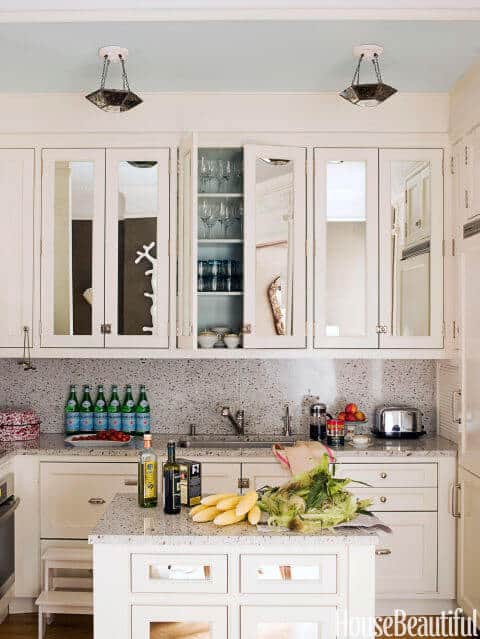 Creative use of mirrored surfaces can help create the illusion of a larger space. In this NYC apartment kitchen, mirrored cabinet doors add depth and interest to the room.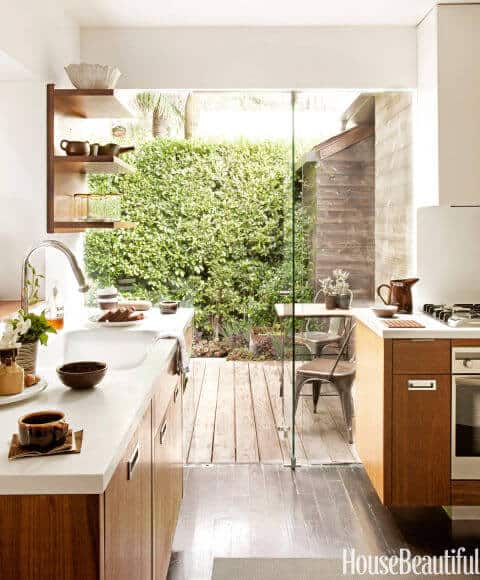 In this small but sunny kitchen in West Hollywood, California, the large glass door creates a seamless transition between the outside patio and the kitchen's interior, an effect enhanced by the smooth transition from indoor flooring to the wood deck outside. This opens up an otherwise tiny space, creating a convincing illusion of a much roomier kitchen.
Get Creative with Small Kitchen Design Services in NYC & NJ
Ready to open up your tiny kitchen to a whole new world of possibilities? At All 1 Kitchen, our team of talented kitchen designers and kitchen installers can help you transform your small kitchen from cramped and claustrophobic into an airy, elegant space that makes the most of its limited square footage. From innovative storage solutions using custom kitchen cabinetry, to visual design that's elegant, modern, and unique, we'll work with you to create your dream kitchen. For a free consultation and cost estimate, call us any time at 201-731-5146.